Should you have a basement ceiling insulation cover? Having insulation is often an important part of the house. Insulation is often laid out between the extra layer and the inner wall or the ceiling. Most homeowners find out that insulated basement ceiling is useful for improved energy efficiency of the house.
You can also save a lot of money for the monthly bills as well as improve the house's comfort altogether. So, what is the overall importance? What kind of benefits you can enjoy?
Facts about Insulated Basement Ceiling
Energy efficiency is the main reason why the basement ceiling is insulated. You see, the idea of insulating the basement ceiling is to prevent (heated) air from escaping or entering the attic space. Not to mention that the insulation can reduce noise leaks or pollution.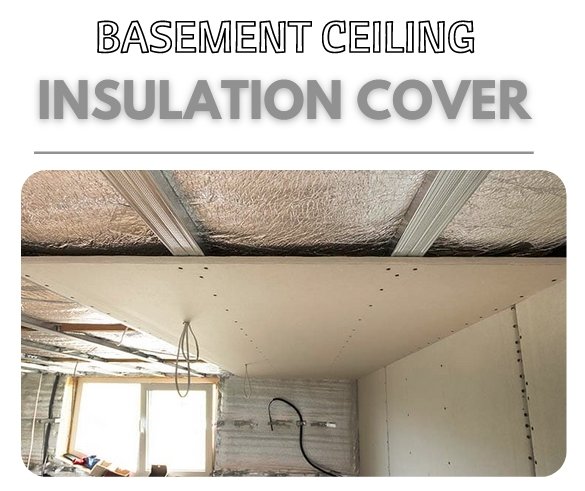 An insulated ceiling can also reduce the possibility of moisture and drafts, which can cause mold growth. In short, you can expect better climate control not only for the basement but also for the entire house. And let's not forget that reducing the monthly bills is also one of the general perks.
Should You Cover Insulation in Basement?
Some insulation may be okay when not covered. It's not aesthetic or pretty, but you can save tons of money, especially if you have just spent quite a significant amount for the insulation. However, in most cases, leaving the insulation uncovered may be dangerous. Not to mention if your insulation is exposed to some of these dangerous conditions:
Skin risk
Fire hazard
Moisture trap
If you have such insulation, it's crucial that you place the extra layer on top of your insulation.
Read also: Step by Step on How to Insulate a Floor From The Top
Some insulation types are sensitive to fire hazards. If they are located close to a fire source or open flame, the insulation may catch on fire. As a result, it may burn the house down instantly. You can reduce the risk by placing a covering over the insulation, so the possibility of getting the heat would be limited or even prevented.
For the cover, you can consider products made from similar newspaper materials as they don't easily combust. Spray foam is also possible. Although it may catch on fire, it needs to be exposed to a minimum 700 degrees to combust. It's imperative to cover the cellulose insulation considering its lowest ignition temperature point.
Insulation involves many chemicals which may cause danger, hazard, and harm to the skin, especially when exposed or touched for a prolonged time. Some insulations must be covered to avoid skin damage. This is highly crucial when you have kids or pets at home.
Formaldehyde is one of the most dangerous chemicals often found in insulation. Let's not forget about flame retardants which can harm (and damage) the skin at prolonged exposure.
Another reason for basement ceiling insulation cover if you are dealing with materials that can absorb moisture. You should realize that moisture can lead to other issues, such as mildew or mold, which can destroy your walls after years. Basically, if the material is absorbent or it can take liquid in, then you should cover it.
How to Cover Unfinished Basement Ceiling
Besides the cheap basement ceiling covering, there are other options that can make your ceiling more attractive even when covered.
Fabric coverage. It's aesthetic. It's cheap. And you can show off your retro side. However, this may be prone to fire so make sure that you keep it away from the flame source.
Corrugated metal. You can create industrial effects or even steampunk designs.
Paint. This is the cheapest and also easiest option.
(Embossed) tin ceiling panel. Not only it's easy to install, but it's also lightweight.
Ceiling tiles with glue-on mode.
Drop ceiling tiles. It may be a bit harder as a DIY project, but this is definitely a great option.
Conclusion
Insulation cover can be a great way to actually improve the aesthetic appeal of your basement. But make sure that you understand everything about the basement ceiling insulation cover before making a decision.